Concentration

Show 1 to 11 (of in total 11 products)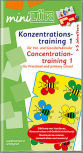 Type of school: Primary school/nursery school school years:
class: 0-1
concentration is one of the most important prerequisites for the successful mastering of requirements at school. Children who can not or not concentrate adequately will not get on in studying either. Therefore it is to give exercises which develop and strengthen her general concentration fortune accordingly to the age of great importance, exactly these children. Children wanting to be able to profit at old age principally of these exercises lastingly from approx. 5 to 7 years which notice by unrest, flop and permanent inattentiveness.
Top
language: English, German
Pattern cubes (N1)
perception, concentration, creativity
age: 3+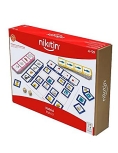 language: German



N10 Matrici - Matching is fun!
    combination training
    perception and concentration
    Compare and sort
Suitable for: kindergarten, preschool, school, 4+
Contents: 12 games, each with 16 solution cards, 2 dices, instructions

Warning: Not suitable for children under three years. Small parts. Choking hazard.
languages: English, German
three-dimensional awarness
precise observation
concentration
27 colorful cubes
age: 4+
New
cooperation

,

social

competence

,

expressiveness
the

communicative nicotine game
On

160

cards

are shown phrases

which

must be

drawn

or

paraphrased

,

represented

in mime, "

after

built"

with

wood

stones

.

A

player

introduces

the

concept,

the

others

try

to guess

him.

When

playing

imagination,

expressivenesses,

creativity,

emotional

competence

and

flexible

intellect

become

better.
age: 4+
Warning! Not suitable for children under 3 years. Choking hazard. Small parts.
Top

languages: English, German
three-dimensional thinking
patience
concentration
27 wooden cubes ,70 sample patterns
age: 4+
language: English, German



Who will build the tallest tower? Different building blocks have to be placed on top of each other on a game template. The cube decides which building block is installed. A fun game in which dexterity, perception and concentration are trained.
age: 5-99 years
For kindergarten, school and adults
- skill
- perception
- concentration
Contents: 45 building blocks, 3 game templates, 1 dice and instructions.



Caution! Not suitable for children under 36 months. Small parts - risk of suffocation.
Shipping time:
7-10 Days *)
Show 1 to 11 (of in total 11 products)